What's DP Process Control
This is an application that allows you to suspend Digital Performer and drop CPU usage to 0% including Audio Engine without quitting Digital Performer.
As you know, Even when you stop playback in Digital Performer, Plug-ins and audio engine still keep working. So it keeps taking the CPU resource.
in this case, You can just quit Digital Performer to release the CPU resource. But you also need to relaunch the application when you restart working. Sometimes it takes a long time to reload your project and it loses motivation and productivity.
This program allows you to suspend and resume Digital Performer easily from the menu bar.
This program can be used in the following cases.
Reducing CPU temperature, Fan speed, Battery usage temporary when you take a break.
Releasing CPU resource for other purposes without quitting Digital Performer.
Usage
Just selecting "Suspend Digital Performer" from DP Process Control menu while Digital Performer is running suspends the application completely.

You can see Digital Performer is taking no CPU at all and being stopped completely, in Activity Monitor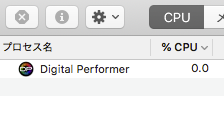 To resume Digital Performer, Just select "Resume Digital Performer" Digital Performer will start working again.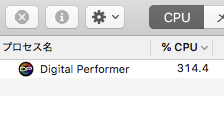 While Digital Performer is suspended, the Application will seem to be frozen, The User interface will stop responding. This is the normal operation. If it's annoying, Hide the application from the Dock.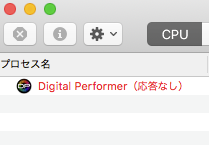 How it works
Simply, This program just sends SIGSTOP/SIGCONT signal to the process of Digital Performer.
Warning
Stability of DAW software strictly depends on timing.Suspending/Resuming your DAW in this way may cause incorrect playback or unexpected data loss. Stop playback and save your project before you suspend the application.
The author of this program is not responsible for any damage caused by using this program, so please use it entirely at your own risk.
Miscellaneous
"Terminate both Digital Performer and KxMemServer" is an old function. It terminates both Digital Performer and KONTAKT Memory Server forcibly.

You can use this function when you are unable to quit KONTAKT Memory Server correctly because of a crash of Digital Performer.
Most users no longer need to use this function.
Download
This program requires Mac OS X 10.9 or later.
This application is not codesigned because I don't have a Developer ID. Gatekeeper might block the application.
Development support
Bitcoin:1nGovVisaH6YHKqL3mCQ4jmzVmQD9Uoe7